High Country Bank Supports Guidestone with Matching Campaign!


High Country Bank (HCB) has generously committed a $2500 matching grant toward Guidestone's end of the year annual fundraising campaign.  The bank encourages community members to join Guidestone and support a vibrant agricultural future by contributing $15-$100 by December 31, 2016. HCB will then match, dollar for dollar, all donations to Guidestone received by this date up to the match amount.
"It is important that Guidestone Colorado receives our support.  They not only enrich the lives of our children through experiential education, but they also assist in preserving the heritage of our community.  Chaffee County has deep roots in agriculture, and we appreciate Guidestone's commitment to the sustainability of Chaffee County, " said Gail Granzella, Executive Vice-President of High Country Bank.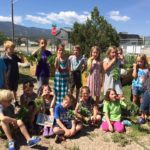 Funds received from the annual campaign and HCB will support Guidestone's programs, including the Farm to School Initiative, Farmhands Youth Education Program, Colorado Land Link, and the Hutchinson Homestead & Learning Center.
"Guidestone is committed to keeping agriculture an integral part of the community conversation," said Jennifer Visitacion, Guidestone's Executive Director.  "With your support, we will continue to strengthen our local food system and provide meaningful, enriching education programs that bridge our region's agricultural past to a secure future."
Donations will be accepted at High Country Bank branch locations directed toward the "Guidestone Fundraising" Account.  You can also give online by clicking the 'Support Us' link below!