Pumpkin Patch & Harvest Festival

Save the Date!
Guidestone's Annual Pumpkin Patch & Harvest Festival 
October 7-9, 2016
Friday & Saturday, 10am-6pm
Sunday, 10am-4pm
Hosted at the Hutchinson Ranch in mid-October each year, the Pumpkin Patch & Harvest Festival is a celebration of community and the harvest season, and Guidestone's largest fundraiser of the year.  Proceeds from the Pumpkin Patch support the delivery of education programs, continued preservation efforts, and general operations of the Hutchinson Homestead and Learning Center, Guidestone's homebase of operations.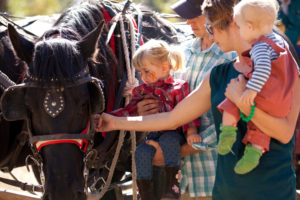 Activities Include:
~Horse-drawn wagon rides to a pumpkin patch
~Tractor Drawn wagon rides
~Pony rides
~Hay bale maze
~Children's crafts
~Face painting
~Food by S&M Food Shack
~Live music & more!
Tickets:
$8/ person in advance
$10/ person at the gate
Children 2 and Under are free!
Admission for children includes a pumpkin while supplies last.
To Purchase:
Get your advance tickets online – CLICK HERE!
Advance tickets are also available at the following ticket outlets through Wednesday, Oct. 5:
~Cafe Dawn, Salida
~Sacred Grounds, Salida
~Kaleidoscope Toys, Salida
~Moonlight Pizza, Salida
~BV Roastery, Buena Vista
~Lettucehead Food Co., Buena Vista
Special Group Rate Opportunities
Do you have a school or youth organization that would like to attend the Pumpkin Patch as a group? We have a discounted rate of $5 per child, chaperones free, for organizational groups of 10 or more children. To schedule, contact andrea@guidestonecolorado.org  Friday 10am-2pm only.
Pumpkin Patch is a Rain, Snow or Shine Event!  In the event of inclement weather, the Hutchinson Ranch barn provides plenty of indoor space for food, games and music.  No refunds provided. And since this is a working ranch, please keep dogs at home. Thanks!
Be a Part of this year's Event!
Business partners, sponsors and community volunteers are invaluable to the success of this event!
For Sponsorship Opportunities, click HERE for more details and to contribute.
For Volunteer Opportunities, click HERE to learn about shift descriptions and volunteer roles.  To sign up, Click HERE!
If you have questions and would like to learn more about being a sponsor or volunteer, please contact andrea@guidestonecolorado.org.
With questions or for more information, please email Andrea@GuidestoneColorado.org or call 719-239-0955.
 A Special Thanks to our Partners & Sponsors for Pumpkin Patch 2016:
Amicas
Boathouse Cantina
CCFA
Colon Orchards
CP's Portables
Dennis Fischer
Francis & Sons
Heart of the Rockies Radio Group
High Country Bank
Hutchinson Ranch
Kaleidoscope Toys

KSBV Radio
Landmark Surveying & Mapping
Law Office of Jane B. Fredman
Law Office of William F. Smith
Little Red Hen Bakery
Marquez & Herrick-Stare, LLC
Maverick Potter
Moonlight Pizza
Mt. Princeton Riding Stables
Mtn. Phoenix Coffee Roasters
Nord Bicycles

Pinon Real Estate Group
Poncha Lumber
Pueblo Bank & Trust
Salida Mountain Sports
Seasons Café
Settings Event Rental
Simple Foods
Teller County Waste
Weathervane Farm
Wellspring Nutritional Therapy