Pumpkin Patch & Harvest Festival

Thank You to everyone in the community who participated in our Annual Pumpkin Patch & Harvest Festival, the weekend of October 7-9. Gorgeous weather set the stage for a fantastic weekend of fun activities and we had an amazing turnout of festival-goers of all ages. We are grateful to all the attendees, volunteers, sponsors and partners who helped to make the Pumpkin Patch a success!
 A Special Thanks to our Partners & Sponsors for Pumpkin Patch 2016:
Amicas Restaurant
Boathouse Cantina
CCFA
Colon Orchards
CP's Portables
Dennis Fischer
Everett Ranch
Francis & Sons
Heart of the Rockies Radio Group
High Country Bank
Hutchinson Ranch
Kaleidoscope Toys
Knapp Family Farms
KSBV Radio
Landmark Surveying & Mapping
Law Office of Jane B. Fredman
Law Office of William F. Smith
Little Red Hen Bakery
Marquez & Herrick-Stare, LLC
Maverick Potter
Moonlight Pizza
Mt. Princeton Riding Stables
Mtn. Phoenix Coffee Roasters
Nord Bicycles
Pinon Real Estate Group

Poncha Lumber
Pueblo Bank & Trust
Ryan O'Brien Illustrations
Salida Mountain Sports
Salida Sunrise Rotary
Seasons Café
Settings Event Rental
Simple Foods
Teller County Waste
YOLO Clothing Store
Weathervane Farm
Wellspring Nutritional Therapy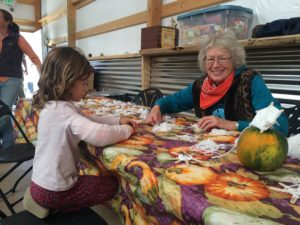 Also A Special Thanks to This Year's Volunteers!

Celia Ademac
Paul Alexander
Dale Anderson
Samantha Bahn
Keith & Evelyn Baker
Arika & Kali Banghart
Ashley Bauscher
Bari Beasley
Paula Berg
Dave Bokel
Tom & Francie Bomer
Pete Bond
Alison Brown
Taryn Ceglowski
Leslie Champ
Matthew & Jasper Coen
Evan Coit
Kori David
DJ DeJong
Lucy DeLuca
Emma Diesslin
Kelly & Gayle Dunavin
Bill Dvorak
Jennifer Eaves
Judy Faass
Kathy Faz
Margaret Fitch
Gail Franke
Jane Fredman
Heather Gorby
Tina Grammen
Frank Haas
Noel & Nina Haas
Mike Harris
Miki & Cooper Hodge
Jessica Hollensbe
Greta Hooston
Deanna Jamison
Patsy & Sabine Juarez
Jonna Kuester
Rebekah LaCroix
Elizabeth & Paul Laesecke
Patty LaTaille
Desmond Lau
Toby Lawson
Chrissy Long
Becky Longberg
Ernest Marquez
Elisha McArthur
Ruthie McBride
Aaliyah McGovern
Seth Minor
Amy Moore
Ethan Nejame
Dharma Null
Louise Olsen-Marquez

Beth & Sawyer Pack
John & Mike Perschbacher
Betty Plotz
Maddie Porter
Gwen Ramsey
Peggy & Nelson Reininger
Cami, Maize & August Renfrow
Wendy Rombold
Susan Roser
Salida Strings
Cole Sites
Aiyana Slater
Stephen Smalzel
Faith Spino
Betsy Steinberg
Vasey Stephens
Jane Templeton
Tracey Thiele
Dave Tipton
Chuck, Riley & Viola Tomkiewicz
Brice Turnbull
Augustus Urgulu
Maya Vallevona
Josh & Sam Visitacion
Dan Waldvogel
Ange Welborn
Taylor Williams
Mark Zander