Farmhands Summer Programs 2017
Registration is now open!
There's still space available in Ranch Camp, Longfellow Junior Gardener's Camp, and more!  Register today!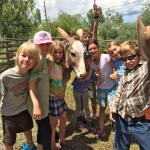 Guidestone partners with local farms, ranches and gardens to provide youth with opportunities to 'dig in' and learn how to grow their own food, participate in farm and ranch life, interact
with farm animals, and play!
Pre-registration required for all programs
For a complete list of dates and program descriptions, click HERE
Scholarships are available.  To apply for a scholarship, please click HERE to fill out an application.
For more information, please contact Andrea Coen: andrea@guidestonecolorado.org or 719-239-0955.