Staff and Board of Directors
Meet our talented team of staff  and board members:

Staff
Jennifer Visitacion
Executive Director
Jennifer Tucker Visitacion, is the Founder and principal Leadership and Strategy Coach with Moonstone Ventures, LLC.  Jen has over 20 years experience working in the non-profit sector in outdoor, environmental, and agricultural education and holds an MBA in Organizational and Environmental Sustainability.  Jen lives in Salida, Colorado at Moonstone Farm and Retreat Center and is a spouse to an incredible man, mom to a vivacious 8 year old, and permanent caregiver to two brilliant canines, 15 well-meaning (and productive) chickens and one Indian Runner Duck.

Andrea Earley Coen
Director of Operations, Hutchinson Homestead & Learning Center
After 20 years working in the field of Environmental and Agriculture Education, most recently as the first Site Director of Rock Bottom Ranch, a project of the Aspen Center for Environmental Studies, Andrea began working for Guidestone in 2009 to develop its Farmhands Education Program.  Since that time she has worn many Guidestone hats, including Education Director and Executive Director.  She has always had a passion for education, agriculture, heritage arts and building community through traditional gatherings (think barn dances and hoedowns!), and she is thrilled to be putting her experience toward developing the Hutchinson Homestead and Learning Center as a vibrant site for agricultural learning, heritage and agri-tourism and community events!
Kayla Maddox
Director, Farm to School Initiative
Over the past 9 years, Kayla has dedicated herself to Chaffee County youth; first as a certified classroom teacher, then later as a certified prevention specialist. Prevention programs she managed worked to increase mindfulness, and reduce high-risk behaviors in teens.   Kayla also has several years' experience writing and managing grants and has helped to secure thousands of dollars for prevention organizations in Chaffee County.  This work experience, paired with her love of growing and hunting her own food, helped Kayla realize the crucial role that healthy food, relationships and experiences play in our lives. She is thrilled to be working with Guidestone to further community education and connection to local food sources.  While at home, Kayla oversees a mini-rodeo including her husband, toddler, 5 pack goats, dog, and chickens, and she "really tries" to get out on the river on her days off.
Dan Waldvogle
Director, Colorado Land Link

Dan is an active farmer/rancher and is committed to supporting family farms and community development. He is the owner/operator of Forestbird Farm and has worked as a manager for the Everett Ranch in Salida for the last five years. Dan enjoyed an early career in music after receiving a Bachelor of Arts in Voice degree from the University of Northern Colorado. He also has a diverse culinary history, experience as a job coach and has worked in the outfitting and recreation industries. He is happy to join Guidestone with the aim to coordinate farmer education while working to keep our rich agricultural lands in production.
Ronni Vitullo
AmeriCorps VISTA
Ronni comes to Guidestone as an AmeriCorps VISTA. Although a Colorado native, she moved to Washington for college, with the intention of studying organic agriculture at The Evergreen State College. But instead got lost (happily) in all there was to learn. So instead studied ethics, sociology, botany and forestry. She's returning to her original vision in a way by joining up with Guidestone to support their mission during her 12 months of service. Ronni loves exploring new places, gardening, hiking and fly fishing.
Board of Directors
Jane Fredman, President
Jane is an attorney with Jane B. Fredman, LLC, a law firm based in Colorado Springs. She specializes in real estate, conservation easements, and business law. After hearing a radio interview with David Lynch, one of Guidestone's founders, who was discussing Colorado Land Link, Jane contacted David and offered free legal help for Guidestone. From that initial opportunity, she became more involved with Guidestone and was elected to the board of directors. In addition to being on the Guidestone board, Jane also volunteers with a number of other food- and environmental-related nonprofits in Southern Colorado. Any spare time is devoted to riding bikes and hiking with her family and dogs.
Art Hutchinson, Vice President

Art is a 6th generation Salida native who grew up on the historic Hutchinson Ranch working the land with his family. Art holds a BA and MA from Colorado State University. Currently, Art is the Chief of Planning for the Intermountain Region of the National Park Service based in Denver. Art is married to Kathy and has two daughters, Erin and Abby.
Paul Alexander, Treasurer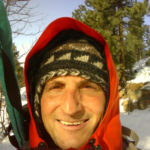 Paul Alexander is Executive Director of Beaver Ponds Environmental Education Center in Fairplay. Previous to that he was Director of the Institute on the Common Good at Regis University. He has extensive experience in facilitating community dialogue and collaborative processes and teaches in both the College of Business and Economics and the Regis College. He served for eight years as the Degree Chair for the Master of Nonprofit Management Program (MNM) at Regis and has over twenty years' experience in the nonprofit and public sectors. He has traveled extensively and lived and worked in Spain and Latin America. Paul loves the land and has dabbled in agriculture on several different continents.
Katy Grether, Secretary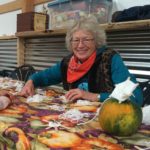 Katy currently serves both as a Guidestone Board Member and on the Hutchinson Homestead Steering Committee. Previously of Salida Area Parks, Open Space and Trails (SPOT), Katy was the lead applicant for all prior History Colorado State Historical Fund proposals in support of the preservation of the Hutchinson Homestead; her involvement maintains the continuity of administration and historic preservation emphasis in our educational projects. Katy Grether and her husband are semi-retired residents of Salida: they have a deep love of the mountains and Colorado history which they have enjoyed all of their lives.
Kathy Faz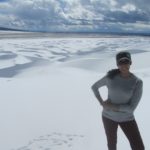 Kathy was born and raised in San Antonio, TX and holds a Master's Degree in History from Texas State University. She moved out west in 2009 to explore a career with the National Park Service. She is currently the Chief of Interpretation and Visitor Services at Great Sand Dunes National Park and Preserve in the San Luis Valley where she manages a visitor center, ranger programs, education programs and special events. She specializes in developing and facilitating immersive youth programs for rural students in the San Luis Valley. Katherine lives in the Sangre de Cristo Mountains in Mosca, CO with her boyfriend, Sean and their dog, Sydney. She enjoys hiking, playing violin and volunteering in her community.
Michael McGovern

Michael McGovern is a Partner & General Manager of Amicas, a wood fired pizza restaurant in Salida, CO.  He is in charge of both the front and back of the restaurant.  Amicas strives to participate in the local foods markets as much as possible with attention to their impact on our environment. At the age of 18 Michael moved to Paris, France to attend and continue his education at Le Cordon Blue.  He later worked at the Jules Vern atop the Eiffle Tower.  When returning to the states he worked as the Executive Chef of Suttle Lake Resort in Sisters, OR.  He also has spent time as an Executive Pastry Chef for the Broken Top Club in Bend, OR. Time not spent at the restaurant for Michael is spent taking his family and him self as far away as possible in the outdoors, all seasons of the year.
Beatrice Price

Beatrice is a Colorado native and grew up in Golden. After graduating from Metropolitan State University with a Bachelor of Science degree in Marketing, Beatrice went to work for BetaWest Properties, the real estate subsidiary of US WEST. She managed the public relations and marketing department and from there went on to work as Marketing Director for Lantz-Boggio Architects. It was about that time that she and her husband Brad decided to start their family and look for a smaller community to raise their children. They built a log home north of Cotopaxi, Colorado and moved off the grid in 2000.  Being so close to Salida, Beatrice would visit Salida for grocery shopping and bring her children to play groups and other recreational events so it made sense to move to Salida and enjoy more of everything the community had to offer. "Salida reminds me of what Golden was like when I grew-up there," says Beatrice. After they moved to Salida, Beatrice taught Business at Cotopaxi High School for a few years and served on the school board of the Salida School District and the Chaffee County Visitors Bureau.  Beatrice is now a realtor, working with First Colorado Land Office. She looks forward to participating with Guidestone Colorado and in particular, helping with the AgriSummit event, as well as helping Guidestone to achieve their goals. She enjoys hiking, mountain biking, gardening and spending time with her friends and family.
Jon Kristofer Sacket-Williams

After receiving his Associate of Arts in Outdoor Leadership at Colorado Mountain College in 1999, Jon Kristofer Sackett-Williams attended and received his Bachelor of Science in Nutrition and Dietetics from the University of New Mexico in 2007.  He has worked in professional kitchens for the better part of 20 years including managing several co-op kitchens and studying Southern Indian cuisine. Along with completing his herbal apprenticeship and certifications in Western Herbalism, he has managed and assisted opening several Vitamin/HABA departments for both a small local herb store and a national grocery store chain, and trained numerous employees in the natural foods industry. As an avid herbalist and gardener, Jon Kristofer has a working knowledge of the need to create viable, living soil to produce healthy plants for human and environmental well-being. Currently he and his life-partner Julie Kimbrough are the chef/owners of Seasons Cafe in Salida, CO. Jon Kristofer and Julie are in the process of opening their second Farm To Table restaurant located in downtown Salida.
Founders and Advisors
David Lynch
Judie Anders