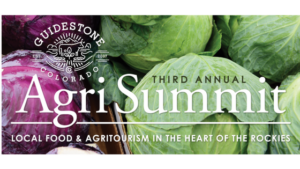 Friday, April 20th – Sunday, April 22nd

On-line registration is now closed, but walk-ins are welcome!
$50 for the whole day's events; $10 for film tickets
SteamPlant Event Center
220 W. Sackett Ave.
AgriSummit is a day-long event highlighting opportunities for networking, discussion and learning focused on local food production and agritourism in the Heart of the Rockies region. Held at Salida's SteamPlant Event Center on Friday, April 20th. AgriSummit 2018 will also include a lunch featuring local foods, an early season Farmers Market, a silent auction and a Community Open House. The day's events will be followed by a screening of the documentary film, 'Farmers for America'.
Who Should Attend?
Producers and Landowners interested in starting an Agritourism business as part of a diversified business  model or who currently have agritourism events on their land and would like to share their model or learn how to strengthen their current agritourism activities.
Beginning Producers interested in learning more about resources and techniques for producing food in the  Central CO Rockies region.
Local Food Enthusiasts interested in learning more about local food initiatives and opportunities.
Educators & Community Members interested in learning more about the role of agriculture in education.
AgriSummit events will continue through the weekend with farm and ranch tours on Saturday and Savor Chaffee County all weekend!
Follow these links for more information on the event:
Program & Schedule of Events
Registration
Farmers Market
Market Vendor Information
Community Open House
'Farmers For America' Film Screening
AgriSummit Farm & Ranch Tours
Savor Chaffee County