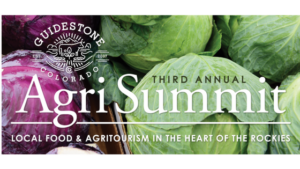 Saturday, April 21st
Celebrate agritourism in our region by participating in one or several of these farm or ranch tours! 
Tours locations include:
SALIDA:
Hallmark Ranch Alpacas – Open House 9am-10am – 9518 State Hwy 291, Salida
Meet the alpacas that call Hallmark Ranch home and peruse a range of fiber products from their alpaca fleece.
Salida Grown Farm Restoration at the Thomas Dairy – 10am Tour – 7475 County Road 146 Salida
Salida Grown's mission is regenerative agriculture. They are experimenting with industrial hemp as a land-and-human healing crop that will be at the core of several other agricultural enterprises.
Hutchinson Homestead & Learning Center – Open House 10am-12pm / Guided Tour at 11am
– 8913 W. Hwy 50, Salida
One of Chaffee County's oldest homesteads, come visit this 150 year old historic site and learn about the evolution of high altitude ranching in the Heart of the Rockies.
Mountain Goat Lodge – 1-2pm Tour/Milking & Cheese Making Demo – 9582 U.S. 285 N, Salida
($10/person. Please pre-register at andrea@guidestonecolorado.org)
This Bed & Breakfast has resident goats roaming the meadow and providing milk that support the in-house cheesemaking classes.
Jefferson Farms Paco-Vicuñas/Natural Fibers – Open House 2:30-3:30pm – 8815 CR 150, Salida
Jefferson's Farms' mission is to produce and deliver the finest naturally raised and processed paco-vicuñas fiber and alpaca yarns and rovings.
Guidestone's Community & School Farm – Volunteer Work Day 2-4pm – 1455 Holman Ave, Salida
The hub of Guidestone's Farm to School Initiative, join us to help prep beds and make repairs to the polyhouse in preparation of the growing season.
BUENA VISTA:
Weathervane Farm – Tour and work projects at 11am and 1pm – 29135 CR 331, Buena Vista
Weathervane Farm is one of Chaffee County's premier CSA/vegetable grow ing operations. The farm provides highquality farm products while working harmoniously with the environment.
HOWARD:
Ring-a-Ding Farms – Tour 9-9:30am – 2350 Cherry Creek Road, Howard
Ring-a-Ding Farms is an Organic Certified family owned farm that specializes in Baby Leaf Greens and Garlic.