Content and discussions will be relevant to next generation and established producers as well as local food enthusiasts, educators and community members alike. Information regarding session topics and speakers will be incorporated here as they are finalized.
The 2020 schedule will be coming soon. Below is the 2019 schedule, for reference.
2019 Schedule of Events
Thursday, April 18th, 2019
1-5pm Farm Tour
Highlighting area farms, ranches and agritourism sites.
The Farm Tour is now Full – Registration Closed.
NOTE TIME CHANGE! 6-7:30pm – Meet & Greet with CO Commissioner of Agriculture, Kate Greenberg
Location: Soulcraft Brewing, Salida

Free & open to the Public!  Join us in welcoming Colorado's new Commissioner of Agriculture to our community, have an opportunity to ask questions and engage in community conversations. 
Kate will provide an address at 6:30pm
Friday, April 19th, 2019
8:00am     Registration Opens
8:30am     Welcome/Opening Remarks
Welcome to AgriSummit, Andrea Earley Coen, Executive Director, Guidestone Colorado
Envision Chaffee County- Greg Felt, Chaffee County Commissioner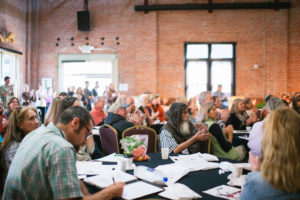 9:00am     Workshops
Session 1: Multi-level Marketing/how to capture every dollar
Presenter: Jane Levene, Jefferson Farms
Session 2: Greenhouse Growing
Presenters: Penn & Cord Parmenter, Penn & Cord's Garden
Session 3: Greener Grass on Your Side of the Fence
Presenter: Kara Harders, Grazing Specialist, CSU Extension
10:15am    Workshops
Session 1: Water Conservation and Water Efficiency in Agricultural Water Use
Presenters: Blake Osborn, Colorado Water Center, CSU; Aaron Derwingson, The Nature Conservancy 
Session 2: Opportunities for Food Markets and Agritourism
Presenters: Dawn Thilmany & Becca Jablonski, Department of Ag and Resource Economics, Colorado State University 
Session 3: Goats 101 Essentials to know before you get goats
Presenter: Jill Sobel, Fetchin' Farms
11:30pm   Lunch/ Vendors/ Silent Auction
12:30pm   Keynote Address:  Sheldon Rockey, Rockey Farms, Center, CO

Sheldon and Brendon Rockey are co-owners of Rockey Farms, a third generation family farm, carrying on the tradition of growing fingerling potatoes in the San Luis Valley. Since the 1930s, the family has embraced creative and adaptive strategies for maintaining their family farm legacy.
1:15pm     Workshops
Session 1: Building an Equitable Food System from Farm to Fork
Presenters: Wendy Peters Moschetti, Director of Food Systems, and Jessica Wright, Procurement & Culinary Programs Manager, LiveWell Colorado
Session 2: High Altitude Seed Adaptation
Presenter: Penn & Cord Parmenter, Penn & Cord's Garden
Session 3: Agritoursim Opportunities in our Community
Presenter: Kelli Hepler, Delta County; Natalie Allio, Badger Creek Ranch; Abby Hutchinson, Hutchinson Ranch/ Hutchinson Homestead; Jennifer Visitacion, Moonstone Farm
2:30pm     Workshops
Session 1: Building a Local Grain Chain
Presenters: Robbie Vitrano, Good Spread; Nanna Meyer & Dan Hobbs, Hobbs & Meyer Farms; Dawn Dennison; others TBD
Session 2: What Industrial Hemp Means to Agriculture in Chaffee County
Presenter: Ed Berg, Salida Hemp Co.
Session 3: Health Begins in the Soil
Presenter: Monica Pless, Guidestone Colorado Farm to School Initiative
3:30-5pm FREE Community Open House Hootenanny!
Farmers Market, Local Libations, Seed Exchange, Live Music & Silent Auction
Hosted by Foodshed Alliance.  The open house is free and open to the public!
For a Full Set of Program Descriptions, Click HERE
For Presenter Bios, Click HERE