Sunflowers are in the last stage of their bloom, hay is being cut and bailed, and school is already back in session. These are all indicators that Fall is approaching all too quickly in the Upper Arkansas Valley, but here at Guidestone the most surefire indicator that the seasons are changing is that we've wrapped up the last of our 2013 Summer Farmhands programming. Our office at the Hutchinson Homestead Ranch & Learning Center is quiet – the constant cries of elation have moved on to other pastures.
With the change of seasons comes a time for reflection, and this Farmhands season provides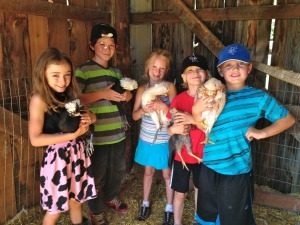 Spending time with favorite chicks in the coop at Farm Camp
Guidestone ample material for that. By all measures it has been our most successful season yet! We debuted our new 4-day camp model, hosting 10 differently themed camps throughout the summer at three sites: Moonstone Farm, the Hutchinson Homestead, and Salida School Gardens – Holman Ave. site. These camps attracted over 90 students throughout the summer, many of whom were committed repeat campers. The diversity of sites where we held programs also contributed to the breadth of our summer programs. We partnered with the Morgan Center for Earth Literacy in Poncha Springs for the first time this season, which hosted our Little Sprouts, Garden Explorers, and Junior Farmers programs, which afforded the Farmhands kids the opportunity to get good and garden dirty while participating in food production firsthand.
As we reflect on what went well this summer, we will also be thinking hard on how to make our programs even better for next season. An essential part of that is the feedback we get from the Farmhands' parents, our instructors, and the kids themselves.
That said, we're ready to let summer go here at Guidestone and welcome the crisp mornings and warm colors that fall will bring, because with them comes our annual Pumpkin Patch Event! Save the date for the fun filled weekend of October 11-13 when there will be horse-drawn carriage rides with the wranglers from Arkansas Valley Trail Rides, a steak dinner and live-auction, music, children's activities, pony rides, food, and of course… pumpkins! All at the Hutchinson Ranch.