Each year, Guidestone partners with the Salida Boys & Girls Club and Salida School District to host Garden Club at the Salida Middle School Garden. This year, Garden Club was organized by two Americorps members, Leah Capezio (CSU Extension, 4-H STEM) and Ronni Vitullo (Guidestone, VISTA), and Guidestone's Farm to School Director, Kayla Maddox.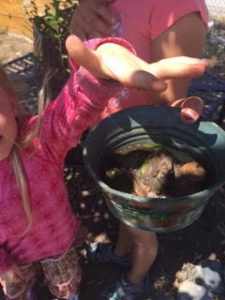 Each Wednesday morning, youth from the Boys and Girls Club were offered the opportunity to spend an hour at the garden, learning about the many things that go into growing vegetables – from soil, seeds, flowers and pollinators, and that other essential ingredient – fun! Each week the youth walked with us from the club the garden, usually leaving a trail of bubbles as they go, thanks to Leah! But Leah's contributions to Garden Club went way beyond the bubbles she gives the kids each week. Leah is a Master Gardener and educator extraordinaire who has formed solid relationships with the kids at the Boys and Girls Club. In fact, one club participant, Amelie, told us that Leah was her main inspiration for coming! Just one sweet example of the power of relationships in community building and education.
Through these partnerships, we have been creating an engaging curriculum for the Garden Club, by outlining topics, curriculum and activities. For example, one Wednesday, the youth engaged in building little pollinator habitats to place around the garden. They thought about the needs of pollinators and gathered up materials from around the garden. Some of the youth coming back each week looked forward to checking on the habitats and fixing them up each time. But it seems they get even more excited about…. harvesting! It's possible you've never seen a child so excited to eat greens!
Each week we also set aside time to talk and reflect. We spent time observing changes in the garden, reflecting on lessons and what fun we had. Memories are documented in our garden journal which you can see here: GARDEN JOURNAL.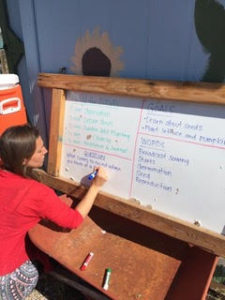 Although school has started and Garden Club at the middle school has wrapped up, Guidestone continues to work with youth at the Boys and Girls Club to host the Youth Farmers Market. You'll find the farm stand by the entrance to the Boys & Girls Club each Friday in September from 4-5:15pm.
We're grateful for the continued engagement of kids at the Boys & Girls Club and hope to see you at the farm stand this month!