Guidestone Colorado is a 501(c)3 non-profit organization that is growing a vibrant agricultural future through education, community building, and partnerships.
Donate Here
Great reasons to support Guidestone this holiday season:
Local food in school cafeterias = Healthy, happy kids
Farm, garden, and ranch education for all ages = Meaningful experiences and skill-building
Homestead history and heritage programs = Knowledge of and connection to place
Viable agricultural land and opportunities = A self-sufficient community of producers and consumers
---
We have an exciting match opportunity from Growing Spaces if you're interested in making a gift that will contribute to building out the interior of our 42' diameter geodesic Growing Dome Greenhouse from Growing Spaces at the Community & School Farm on Holman Avenue.
Dome Donations and More Info
Growing Spaces will match up to $500 in donations to this project, beginning December 10th! The growing dome supports a vision of expanded agricultural education and production in Chaffee County.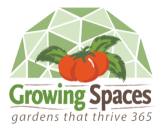 We are incredibly grateful for the generous donations that have gotten us this far!
---