Your support of this work is critical to our collective success as we work together to grow a vibrant agricultural future! When you support Guidestone, you…
Provide youth, families and adults with the opportunity to

learn about and

grow their awareness, skills, and appreciation of farming, ranching and agricultural history.

Ensure students have access to healthy, locally grown food in their school meals and garden education and service learning incorporated into the classroom.
Support aspiring and current farmers, ranchers and landowners in finding access to land and other resources needed to launch successful agricultural businesses.
Help agriculture remain viable into the future.
Ways You Can Support
---
Make a tax-deductible donation to Guidestone! Opportunities include single or recurring donations, and can either be non-restricted in support of Guidestone's operations and all programs, or restricted funds that allow you to choose where you would most like to see your dollars used. For more information about our programs:
• Farm to School
• Farmhands Youth Education Programs
• Colorado Land Link
• Hutchinson Homestead & Learning Center
---
Support us by shopping! We have nearly 200 online retail partners including Amazon and Target who will donate on your behalf just for shopping with them. Requires sign in to Amazon.
---
Purchase a Guidestone LastBag! The last bag you will ever need to buy! The LastBag, made for Guidestone by EQPD Gear in Twisp, WA, is versatile, reliable, easy to care for and a joy to use. Built to carry most anything, LastBags are used for everything from groceries and beach gear, to books and sports equipment. The utilitarian design works in any climate, in any location, for all people; men and women, girls and boys, on farms, in cities and everywhere in between. Don't hesitate to place on muddy/wet/snowy ground or carry oversized loads with just one handle. The 18oz. #3 coated fabric is extremely durable, absolutely waterproof, puncture resistant and bleach safe. The seamless folded bottom prevents water from seeping in and exposed side seams allow the bag to stand upright and open, or fold flat. Features include:
Lifetime guarantee
Removable felt base
90lb tear strength
Reinforced, padded and snapping handles
Two carry choices: hand or shoulder. The hand version has an oversized opening for forearm carry and the shoulder is adjustable for cross body use.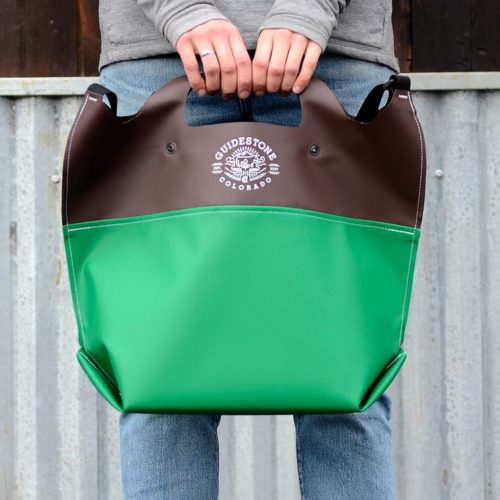 EQPD estimates one LastBag, when used weekly for groceries, can eliminate 600 single-use bags per year. For every 10 years when you say "no thank you" to single-use bags, you can save a 42 gallon barrel of oil (plastic), a dozen 20 year old tress and 5000 gallons of water (paper).
Your purchase of a Guidestone's LastBag provides 100% of retail profit directly to supporting Guidestone's programs. Thank you for making a difference for a healthy community and a vibrant agricultural future!
---
The success of Guidestone is thanks to the hard work, dedication and support of many individuals, businesses and funders. Want to join our team? Here's how!
Be a Sponsor! Every year we seek sponsorships for our annual events, and sponsors can choose to support one or all, including the Land Link Forum, AgriSummit, and the Pumpkin Patch and Harvest Festival.
Be an Intern! Guidestone often provides internships across a variety of our programs and for various interests.
Be a Volunteer! Volunteer opportunities are available to help support the Salida School Gardens, Farmhands Youth Education Program, administrative tasks, Homestead tours, Pumpkin Patch activities and more. If you would like to support with your time and expertise, please join us – we love our volunteers!
---
To learn more about any of these opportunities, please contact
info@guidestonecolorado.org or call 719-239-0955.
Thank you for your interest and support!