Thank you for a wonderful 2019 Pumpkin Patch & Harvest Festival!
On behalf of Guidestone Colorado, I would like to extend a resounding thank you to everyone in the community who participated in our 13th Annual Pumpkin Patch & Harvest Festival, the weekend of October 11-13th, 2019. We had a fantastic weekend of fun activities and our highest ever turnout of festival-goers of all ages from our local community and surrounding counties. We are grateful to all the attendees, volunteers, sponsors and partners who helped to make the Pumpkin Patch a success!
Proceeds from the Pumpkin Patch & Harvest Festival support Guidestone's programs, including Farmhands Education Programs, the Farm to School Initiative, Colorado Land Link, and the Hutchinson Homestead & Learning Center.
Community engagement is invaluable to the success of these programs, and we are so grateful to be part of such an enthusiastic community that supports local food and local agriculture!
Special Thanks to this year's Sponsors & Donors!
Thanks, too, to the following team of hard-working and positive volunteers, and the musicians who created such a festive atmosphere – thank you for sharing your time and talents, and for being an invaluable part of the weekend's success!
Carolyn Alexander
Janie Allen
Ryan Allen
Irene Alvarez
Ella Barnett
Jamison Batinich
Carley Besl
Linda Brach
Allyna Bright
Ruby Brown
Bob Campbell
Scarlett Campbell
Jayden Castro
Erica Cauthron
Patricia Cauthron
Isabella Chambers
Fatima Chavez
Laura Clegg
Matthew Coen
Bonnie Culpepper
Joyce Cunningham

Kendra Dean
Frank DeCew
Brian Edwards
Judy Faass
Stacy Falk
Saige Ferguson
Dennis Fischer
Christy Fitzpatrick
Dylan Hood Foster
Jane Fredman
Amato French
Evanlee Garcia
Shelley Garcia
Cassidy Gillis
David Grant
Bob Grether
Katy Grether
Abby Groover
Steve Harris
Horizons Exploratory Academy
Angie Jenson
Tyler Kaess
Stephanie Leddington
Lily Lengerich
Sierra Lenhart
Jen Lobeck
Joan Lobeck
Becky Longberg
Amanda Lynch
Carson McConathy
Tracy McConathy
Asya Meadows
Maddie Miller
Adam Myers
Quinn Myers
Robin Nejame
Dave Nordstrom
Tyler O'Halloran
Anne Oliver
Finley Petit
Maddie Porter
Maggie Quinn

Mohan Ramprasad
Amy Rhude
Hannah Rhude
Megan Rhude
Liz Riley
Kathy Rogers
Trinity Roof
Susan Roser
Susie Shallers
Sarah Shoptaw
Ally Sloan
Stephen Smalzel
Kurt Snyder
Gaylene Stevens
Jane Templeton
Dave Tipton
Ned Warner
Bruce Warren
Ange Welborn
Kelly West
Elijah Wilcox
---
General Event Details

Second weekend in October
10am – 4pm each day
Hutchinson Ranch, Salida
Autumn in the Upper Arkansas Valley is a wonderful time to celebrate the region and its abundant harvest. One great event for children and families is Guidestone's Annual Pumpkin Patch & Harvest Festival at the Hutchinson Ranch in Salida, Colorado. This beloved community event provides 3 days of family fun for hundreds of festival-goers from Chaffee County and surrounding communities with horse-drawn wagon rides to the pumpkin patch, pony rides, field games, crafts, face painting, food, music and more!
The event is Guidestone's largest fundraiser of the year, and proceeds from the Pumpkin Patch support the delivery of education programs, continued preservation efforts, and general operations of the Hutchinson Homestead and Learning Center, Guidestone's home base of operations.
Pumpkin Patch is a rain, snow or shine event. In the event of inclement weather, the Hutchinson Ranch provides plenty of indoor space for foods, games, crafts and music. No refunds provided. And since this is a working ranch, please keep dogs at home. Thank you!
Tickets
General Entrance Tickets include participation in all event activities, including the tractor and hay wagon rides, straw bale maze, farm games, face painting, crafts, apple cider press, live music and other games and activities.  Food, beverages and pony rides are additional. Children 2 & under are always free, and a free pumpkin comes with every child's entrance ticket while supplies last.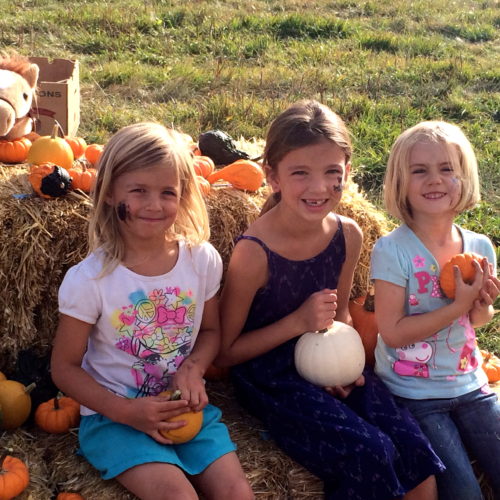 Event Activities
Event activities provide fun for all ages and include:
Tractor-drawn wagon rides from the entrance to the barn
Horse-drawn wagon rides to the pumpkin patch
Straw bale maze
Pony rides
Cider press
Face painting
Farm games (11am, 1pm, 3 pm)
Farm yard area
Crafts
Family photos by Phreckles Photography
Maverick Potter clay pumpkin carving
Spinning demonstrations
Location
The beautiful Hutchinson Ranch is located along the banks of the South Arkansas River, half way between Salida & Poncha Springs.

Accessibility
Parking is just past the entrance to the ranch, and guests have a short walk from the parking lot to the entrance gate.  From there, a tractor-drawn wagon take participants up the hill to the event barn, where the food, live music, face painting, apple cider press, farm games and crafts are all located. From the event barn, guests can walk down to the pasture to find the ponies, straw bale maze, farm animals and the horse-drawn wagon rides out to the pumpkin patch. Most child strollers can navigate the dirt road and terrain without concern.  Anyone needing wheelchair accessibility can drive directly up to the event barn.
Want to get more involved?
The success of the Pumpkin Patch is due in large part to our sponsors and volunteers!
Become a Volunteer!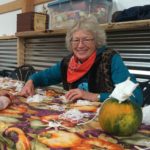 Please join us in making this event a success by being a volunteer! We need volunteers to assist in many aspects of the event – sign up to help with craft activities, face painting, food sales, parking lot, farm games and more. Help make this year the most festive yet!
Sponsorship Opportunities
Please join us in making this event a success by becoming a sponsor. Sponsors can provide funds and/or donate goods and services. Proceeds from the pumpkin patch cover event costs and support Guidestone's mission of growing a vibrant agricultural future through Education, Community Building and Partnerships. Thank you for your support!
To learn more about this event, please contact info@guidestonecolorado.org or call (719)239-0955.