2020 Pumpkin Patch & Harvest Festival Thank Yous
We would like to extend a wholehearted thank you to everyone in the community who participated in the 14th Annual Pumpkin Patch & Harvest Festival, the weekends of October 9-11 and 16-18, at the historic Hutchinson Homestead & Learning Center. We had two fantastic sold-out weekends full of local food and beverages, creative crafts, festive tunes, Colorado-grown pumpkins, tractor hay rides, farmyard and balloon animals, and most importantly, time to connect with friends and family safely while celebrating local food and the harvest season. We are grateful to all the attendees, volunteers, sponsors, and partners who helped to make the COVID-adapted Pumpkin Patch a success!
Special Thanks to this year's Sponsors & Donors!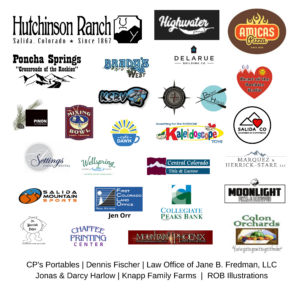 Thanks, too, to the following team of hard-working and positive volunteers, and the musicians who created such a festive atmosphere – thank you for sharing your time and talents, and for being an invaluable part of the weekend's success!
Celia Adamec
Amy Adams
Alex Ahrens
Paul Alexander
Janie Allen
Ryan Allen
Stu Allen
Ed Alloy
Cat Anderson
Dale Anderson
Ashlie Arnold
Jnya Berry
Norah Blackburn
Ripley Blevins
Linda Brach
Linda Brown
Nate Calderone
Bob Campbell
Sarah Chick
Laura Clegg
Matthew Coen
Joyce Cunningham


Krystina Delao
Kristoff Druva
Michael Fay
Max Ferguson
Saige Ferguson
Dennis Fischer
Dylan Hood Foster
April Franklin
Jane Fredman
Cassidy Gillis
Rachel Gottlieb
David Grant
Katy Grether
Amato Halenda
June Hamilton
Kelly Hamilton
Levi Hamilton
Steve Harris
Alexandra Hebert
Craig Hewins
Danica Hinerman
Veronica Kissoon
Kira Kuhl
Toby Lawson
Stephanie Leddington
Elizabeth Little
Jen Lobeck
Joan Lobeck
Adam Loupe
Lexi Martinez
Scarlett Massine
Skyler Margos
Diana Mead
Julie Mordecai
Adam Myers
Ethan NeJame
Robin NeJame
Dave Nordstrom
Tom Plant
Sophie Pressly
Gwen Ramsey
Stephanie Reece
Kaya Schwarz
Dan Shore
Cammie Simpson
Ally Sloan
Stephen Smalzel
Andrew Smith
Quinn Smith
Kurt Snyder
Ayal Tayas
Carmel Tayas
Nirit Tayas
Yair Tayas
Presley Thomas
Zoe Thomas
Dave Tipton
Lydia Tonnesen
Jes Walton
Daniel Wardrop
Bruce Warren
Emma Wilkins
David Wood
Jenny Wright
Bethany

2020 Pumpkin Patch & Harvest Festival Details
October 9-11 and October 16-18
9 am-12 pm and 1-4 pm (each day)
Registration for each day closes at 8 pm the prior day.
The event will look a bit different this year; here's what you can expect:
Dates
The event will be held over two weekends:
October 9-11 and October 16-18
from 9 am-12 pm and 1-4 pm each day
Location
NEW! Hutchinson Homestead & Learning Center
The beautiful historic Hutchinson Homestead is located at 8913 US Highway 50, half way between Salida & Poncha Springs. Since this is a working ranch, please keep dogs at home. Thank you!
Tickets & Attendance
Pumpkin Patch tickets will go on sale October 1st and will be advance purchase only. To accommodate smaller group sizes, tickets will be by advance purchase only, with a maximum of 100 people attending during each 3-hour time period. Children 2 & under are always free, and a free pumpkin comes with every child's entrance ticket while supplies last. Registration will ask how many children 2 years old and under are attending with you; you do not need to purchase tickets for them.
This is a rain, snow, or shine event, and we regret that weather-related refunds will not be available.
Activities
We will be able to provide many of the anticipated activities, allowing for social distancing, including wagon rides to the pumpkin patch, a free pumpkin with each child's ticket, a straw bale maze, crafts, drinks/snacks, farmyard friends, and music!
Health & Safety
Pumpkin Patch COVID-19 Health Policy
Pumpkin Patch COVID-19 Impact FAQ
To keep everyone safe during Pumpkin Patch, we have COVID health policies in place, which have been approved by Chaffee County Public Health, including protocols for health screenings (temperature and verbal symptoms check), social distancing, contact tracing, hand washing, cleaning and sanitizing surfaces and supplies, food and beverages, and protective equipment. Masks are required for everyone 7 years of age and up.
Want to get involved?
The success of the Pumpkin Patch is due in large part to our sponsors and volunteers! To learn more about sponsorship and volunteer opportunities, please contact info@guidestonecolorado.org or call 719-239-0955.
Volunteer at Pumpkin Patch
Help make this year festive! We need volunteers to assist in many aspects of the event – craft activities, food sales, pumpkin stocking, and more.
Event Sponsorships
We appreciate your support! Sponsors can provide funds and/or donate goods and services. Proceeds from the Pumpkin Patch cover event costs and support Guidestone's mission of growing a vibrant agricultural future through education, community building and partnerships.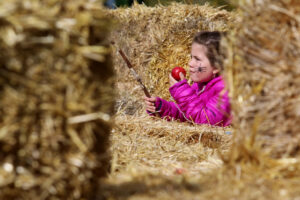 Proceeds
The event is Guidestone's largest fundraiser of the year, and proceeds from the Pumpkin Patch support the delivery of education programs, continued preservation efforts, and general operations of the Hutchinson Homestead and Learning Center, Guidestone's home base of operations.
Other Considerations
Pumpkin Patch is a rain, snow, or shine event; weather-related refunds will not be available. And as this is working ranch, please leave your dogs at home. Thank you!
To learn more about this event, please contact info@guidestonecolorado.org or call 719-239-0955.
We hope you'll join us!