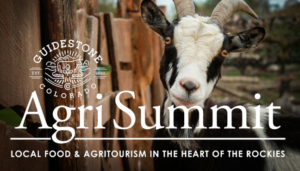 AgriSummit Virtual Conference

Thursday, April 16th – Friday, April 17th, 2020
This year, due to the COVID-19 health emergency, AgriSummit will be a two-day virtual event highlighting opportunities for networking, discussion and learning focused on local food production and agritourism in the Heart of the Rockies region. The main day of speakers and breakout sessions will be held through Zoom on Friday, April 17th, and will include a welcome address, two breakout sessions with three options each, a self-care activity break, and a shared virtual lunchtime keynote. Our welcome address will be provided by guest speaker Mark Winne, food systems expert and author of Food Town USA, and the keynote speaker is Woody Tasch, author of Slow Money.
On Thursday, April 16th, join us for a Fruit Tree Grafting Demo with Eric Johnson of Widespread Malus, and a virtual Farm Tour.
Who Should Attend?
Producers and Landowners

Who are interested in starting an Agritourism business as part of a diversified business model
Who currently have agritourism events on their land and would like to share their model or learn how to strengthen their current agritourism activities

Beginning Producers

interested in learning more about resources and techniques for producing food in the Central CO Rockies region.

Food Enthusiasts & Community Members!

If you are interested in local food, agriculture, community resiliency, and rural economies; want to learn more about local food initiatives and opportunities; and are eager to join in on the conversations, this event is for YOU!