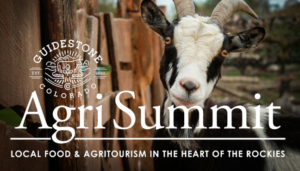 Thursday, April 16th – Friday, April 18th, 2020
Salida, CO
AgriSummit is a three-day event highlighting opportunities for networking, discussion and learning focused on local food production and agritourism in the Heart of the Rockies region. The main day of breakout sessions will be held at Salida's SteamPlant Event Center on Friday, April 17th, and will include a lunch featuring local foods, an early season Farmers Market, a silent auction and a Community Open House Hootenanny, complete with local libations tastings, a seed swap and live music!
New this year, we are combining AgriSummit and Land Link Forum into one inspiring event! Land Link-focused activities will include a Land Link track for Friday breakout sessions plus a full-day Visioning Course for Aspiring Farmers and Ranchers on Thursday, April 16th which will include a facilitated visioning session in the morning followed by participation in the afternoon Farm & Ranch Tour.
The Thursday Farm & Ranch Tour, highlighting area farms, ranches, and agritourism sites from 1 to 5 pm, will also be open for general admission, and will be followed by an evening Meet & Greet at Soulcraft Brewing from 5 to 6:30 pm, with Mark Winne, food systems expert and author of Food Town USA. Pre-registration is required for the tour, but the Meet & Greet will be free and open to the public.
On Saturday, April 18th, join us for a three-hour Hands-On Grafting Workshop with Eric Johnson of Widespread Malus. Attendees will learn to bench graft apple trees and take home three trees.
Who Should Attend?
Producers and Landowners

Who are interested in starting an Agritourism business as part of a diversified business model

Who currently have agritourism events on their land and would like to share their model or learn how to strengthen their current agritourism activities

Beginning Producers

interested in learning more about resources and techniques for producing food in the Central CO Rockies region.

Food Enthusiasts & Community Members!

If you are interested in local food, agriculture, community resiliency, and rural economies; want to learn more about local food initiatives and opportunities; and are eager to join in on the conversations, this event is for YOU!