Series Description
The Land Access Series focuses on land access topics relevant to beginning and experienced farmers and ranchers targeted to producers in the San Luis Valley. Topics will include access to resources, lease agreements, land assessments, financial planning, and creating farm business resiliency through knowledge. Funding is provided by the USDA Office of Partnerships and Public Engagement 2501 Grant Funds supporting socially disadvantaged producers.
Location
Location details are included below. We look forward to seeing you in person! A virtual option will also be available for those who can't make it to Alamosa.
Cost & Audience
This free event is especially designed for the San Luis Valley, but is open to all!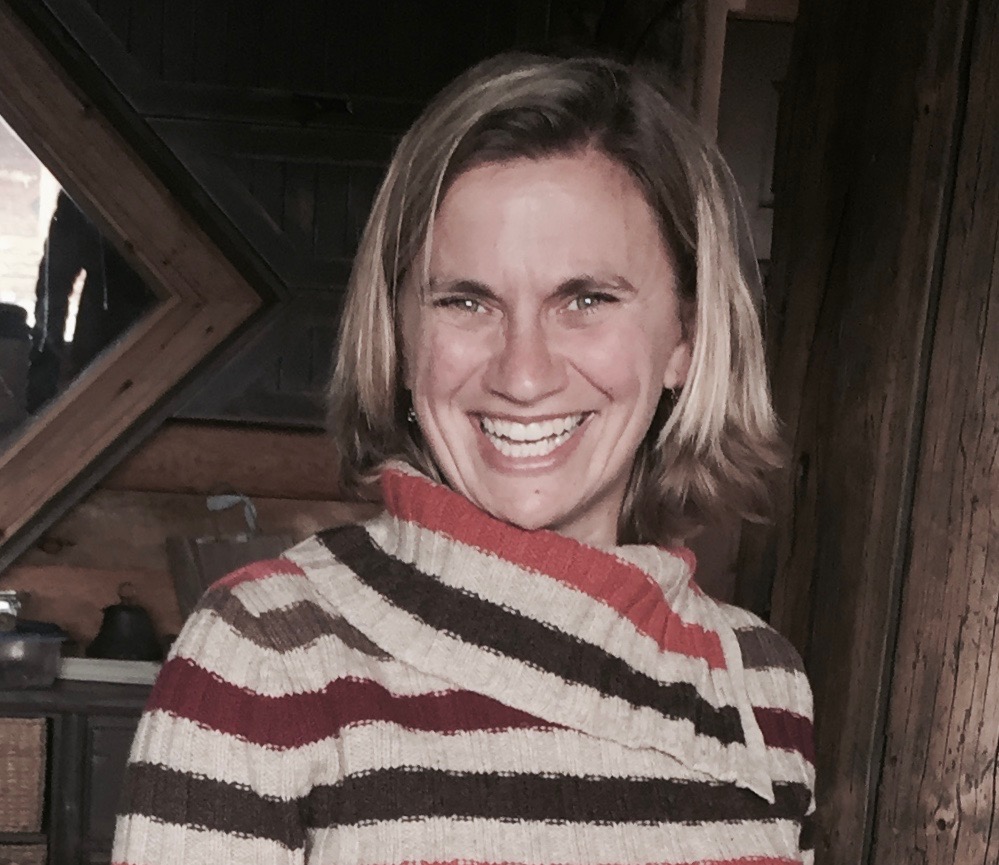 Presenter Bio
Amanda Laban
Since 2014, Amanda has been a certified Farm Succession Coordinator through the International Farm Transition Network. She has worked with beginning and experienced farmers/ranchers on land access and transition planning and education. Amanda holds a masters' degree in environmental management, where she completed a project focused on improving food systems through education, development, and resource connecting. Prior to working for Guidestone as the Land Link Director, Amanda spent her time managing the behind the scenes work of a seed and vegetable farm in Longmont, CO. Amanda sees land access as one of the greatest opportunities to have a successful career in agriculture and is always looking for innovative solutions for providing successful land matches for farmers and ranchers.
Upcoming Sessions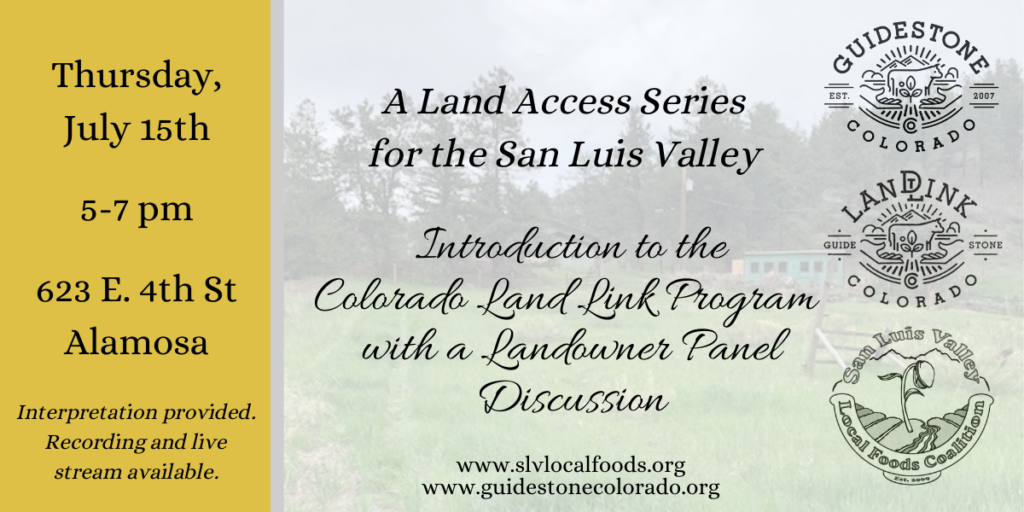 An Introduction to the Colorado Land Link Program with a Landowner Panel Discussion
Thursday, July 15th, 2021
5-7 pm
In person option: 623 E 4th St, Alamosa, CO 81101
Virtual option: A link will be provided the week before the event
Información en español & Information in English
In collaboration with the San Luis Valley Local Foods Coalition, Guidestone Colorado will host a presentation on the Colorado Land Link program and how to best utilize the Land Link database and resources. This event will provide useful advice and tips on the options and challenges regarding land tenure (leasing and ownership) in Colorado. Join us in July for this session covering the basics of land access in Colorado. We look forward to having you at this in-person event!
Panelist Bios
Debora Hankinson & Les Petersen
Debora Hankinson and Les Petersen own and operate the Alamosa KOA campground just east of Alamosa. Prior to being campground owners Deb spent her career in architecture and Les in software engineering. In 2019 they left their corporate jobs in Kansas City Missouri to become full-time campground owners. In addition to the 15-acre campground, Deb and Les purchased an additional 90 acres east of the KOA. Ten of these acres are earmarked for campground expansion and the remaining 80 acres they hope to put back into some sort of agricultural production.
Devon Peña
Since 1999, Dr. Peña has served as Full Professor at the University of Washington in the Departments of American Ethnic Studies, Anthropology, and the Program on the Environment. His areas of expertise include agroecology, environmental anthropology, Chicana/o Studies, social movements, and water law. He is widely recognized for his action-oriented research and played a key role in the drafting and passage of the 2009 Colorado Acequia Recognition law (HB 09-1233), a statute that established the customary law of the acequias as prior to the Doctrine of Prior Appropriation.
Dr. Peña taught at Colorado College for fifteen years prior to his appointment at the University of Washington where he was recruited to create a Ph.D. Program in Environmental Anthropology. He continues serving as a Full Professor in the Departments of American Ethnic Studies and Anthropology and the Program on the Environment.
Peña is the Founder and President of The Acequia Institute and manages the nonprofit foundation's 181-acre farm in Viejo San Acacio, Colorado on Nuche-Dinè-Tiwa-Chicana/o/x territory. The Institute's farm has water rights on the oldest adjudicated water rights in Colorado, the San Luis Peoples Acequia (1852). The entire parcel and water rights are held in a conservation easement emphasizing the preservation of open space, wildlife habitat, and acequia farming methods, practices, and traditions. He has served on numerous Boards including the Community Foundation of the San Luis Valley (2017-), the Northern Branch of Alianza Milpa (2019-), and the Council of the Indigenous Seed Keepers Network (2017-). He served on the Board of Food First for eight years (2012-2020) and before that for ten years with the Council for Responsible Genetics (CRG, 1992-2002).
Dr. Peña is the author or editor of numerous award-winning books, encyclopedias, and other publications. His most recent book, Mexican-Origin Foods, Foodways, and Social Movements: Decolonial Perspectives (U. Arkansas 2017) received the "Best Edited Volume-2018" Prize from the Association for the Study of Food and Society and deemed "Essential Reading" by Choice, American Library Association. He is currently completing work on a two volume book on acequias to be published by the University of Arizona Press in 2022-23.