Welcome! We are holding our 2023 plant sales on Friday, May 12 from 4-6pm and on Saturday, June 10, from 10am – noon. Online ordering will be open for 1 week prior to the sale date, and plant pick-up will be on the sale date.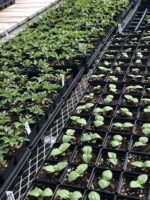 Information for the Plant Sale on Friday, May 12, 2023
Pre-Ordering for the May Plant Sale is now closed; walk-ups are welcome 4-6pm on Friday, May 12!
Our first sale will offer cool season crops that you can plant in your garden now — broccoli, cabbage, chard, lettuce, parsley, collards. Quantities of some items may be limited due to availability.
Order Pick-Up & Walk Up Sales
Friday, May 12, 4-6pm
Pick-up of pre-ordered plants and any additional walk up sales will be from 4-6pm on Friday, May 12.
General Information for Plant Sales
Order Pick-Up Location
Community & School Farm
1455 Holman Ave, Salida, CO
The farm shares a parking lot with the dog park and is across from the Trailside Estates neighborhood.
Questions
If you have any questions, please email us at info@guidestonecolorado.org or give us a call at 719-239-0955.
Thank you!
Thanks to High Country Bank and Altamont Landscaping for their support of these plant sales.
| | |
| --- | --- |
| | |
| | |
Plant Descriptions

| Variety | Days to Maturity & Description |
| --- | --- |
| Waltham Broccoli | 75 days, lots of side shoots, frost tolerant. Waltham Broccoli |
| De Cicco Broccoli | 45 days - small heads, lots of side shoots. De Cicco Broccoli |
| Farao Cabbage | 65 day, green, 3lb head - Farao Cabbage |
| Copenhagen Market Cabbage | Copenhagen Cabbage: 65-80 days. Tightly wrapped green cabbage that forms 6-8" diameter heads; Danish heirloom. Copenhagen Market Cabbage |
| German Chamomile | Beautiful small white flowers with yellow centers, great for tea with a light apple flavor. German Chamomile |
| Rainbow Chard | Rainbow Chard. 58 days full size. Mix of colored stems, good bolt resistance. A beautiful crop to grow and harvest. Frost hardy. Rainbow Chard |
| Ruby Red Chard | Chard. 58 days full size. Red stems. A beautiful crop to grow and harvest. Frost hardy. Ruby Red Chard |
| Vates Collards | 68 day, slow bolt, large leaves. Vates Collards |
| Flash Collards | 55 day, very slow bolt. Flash Collards |
| Nasturtium | 55-65 days to maturity, beautiful edible flowers with an arugula-like bite.Nasturtium |
| Gomphrena | 85-100 days, beautiful purple to white variation, beautiful for cut flowers or dried. Gomphrena |
| Red Russian Kale | 50 days, purple stem, flat leaf great for salads. Red Russian Kale |
| Vates Kale | 55 days, open pollinated, curly green kale. Vates Kale |
| Dazzling Blue Kale | 60 day, blue lacinato type kale. Dazzling Blue Kale |
| Winterbor Kale | 60 days. standard green curly kale, cold hardy. Winterbor Kale |
| West Front Kale | 50 days, very cold hardy, grows throughout winter. Western Front Kale |
| Romaine (Freckles) Lettuce | 55 days, pretty green romaine with maroon specks. Freckles Lettuce |
| Romaine (Parris Island Cos) Lettuce | Parris Island Romaine Lettuce. 68 Days. Tall, upright green heirloom romaine. Parris Island Lettuce |
| Butterhead (Speckles) Lettuce | 50 days. Amish heirloom green butterhead/bibb type with dark red flecks. Speckles Lettuce |
| Butterhead (Buttercrunch) Lettuce | Buttercrunch Lettuce. 65 days. Heat tolerant heirloom. Compact and good for containers. Buttercrunch Lettuce |
| Moss Curled Parsley | Milder flavor and better cold tolerance than flat leaved varieties. Moss Curled Parsley |
| Italian Flat Leaf Parsley | Great flavor, grow inside or out. Frost tolerant. Flat Leaf Parsley |
| Bloomsdale Spinach | 30 days, frost tolerant, open pollinated savoyed leaf spinach. Bloomsdale Spinach |
| Galletta Strawberry | Early season, June-bearing, large berries with excellent flavor. Galletta Strawberries |
| Green Tomatillos | Green Tomatillo: 75 days to maturity. 2-3" green fruits produce well for us in late season. Green Tomatillos |
| Black Krim Tomatoes | Black Krim. 80 days. Russian heirloom tomato with green shoulders, dark red flesh. Delicious! Indeterminate Black Krim Tomatoes |
| Red Cherry Large Cherry Tomatoes | Red Cherry - Large. 75 days. Big round red cherry tomatoes. Indeterminate. Red Cherry Large |
| Red Fig Cherry Tomatoes | 85 days from transplant, indeterminate, very productive teardrop-shaped red cherry sized tomato. Red Fig Cherry Tomato |
| Sungold Cherry Tomatoes | Sungold Cherry Tomato. 57 days. Sweet, delicious orange cherry tomato with high yields. Indeterminate - must be trellised. Sungold Cherry tomatoes |
| Supersweet 100 Cherry Tomatoes | Supersweet 100 Cherry Tomato. 60 Days. Productive small/medium red cherry. Indeterminate. Supersweet 100 Cherry Tomato |
| Tulsi / Holy Basil | 60 day, very tender holy basil used for teas. Tulsi |