Welcome! We are holding our second 2021 plant sale on Saturday, June 5th, 2021. Online ordering will be open for 1 week prior to the sale date, and plant pick-up will be on the sale date.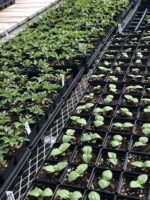 Information for the Plant Sale on Saturday, June 5th, 2021
Online Ordering
May 28-June 4, 2021
Walk-ups are welcome! The online pre-order form closed at noon on Friday, June 4th.
Our second sale will offer more of the same — broccoli, cabbage, chard, lettuce, rosemary, tomatoes — plus basil, cucumbers, parsley, peppers, squash, tomatillos, and additional tomato varieties! Quantities of some items may be limited due to availability.
Order Pick-Up
Saturday, June 5th, 2021
Pick-up of pre-ordered plants will be from 10 am – 1 pm on Saturday, June 5th.
General Information for Plant Sales
Order Pick-Up Location
Community & School Farm
1455 Holman Ave, Salida, CO
The farm shares a parking lot with the dog park and is across from the Trailside Estates neighborhood.
Questions
If you have any questions, please email us at info@guidestonecolorado.org or give us a call at 719-239-0955.
Thank you!
Thanks to High Country Bank and Erin's Greens for their support of these plant sales.
| | |
| --- | --- |
| | |
| | |
Plant Descriptions

Plants Available
From Guidestone
Description
Basil - Italian
78 days to maturity. Keep above 37F. Pinch off the tops for your first harvest to encourage basil to branch out more.
More
Broccoli - Gypsy
58 days to maturity. Hybrid good for producing heads or sideshoots. Performs well in poor soils and tolerates heat. Frost hardy.
More
Cabbage - Red - Red Express
62 days. Compact plants are good for small spaces. Form 2-4 pound heads. Frost hardy.
More
Chard - Bright Lights
58 days to full size. Mix of colored stems. Good bolt resistance. A beautiful crop to grow and harvest. Frost hardy.
More
Cucumber - Pickling - Homemade Pickles
55 days to maturity. Relatively compact plant with 4-5' long vines. Can be eaten fresh or pickled. They can grow in a container and work well trellised. Stay on top of picking them for more production. Frost sensitive.
More
Cucumber - Slicing - Marketmore
Heirloom. 60 days. 4-6' long vines with ripe cucumbers about 6-8" long. Frost sensitive.
More
Parsley - Curly
Milder flavor and better cold tolerance than flat leaved varieties.
More
Parsley - Flat Italian
Easy to grow and noted for its robust flavor. Wide flat leaves that resemble cilantro. High in iron and vitamins A, C and E. The preferred parsley for cooking. Add to hot food just before serving to preserve flavor.
More
Pepper - Bell - Ace
50 days green. 70 days red. Productive early bell pepper.
More
Pepper - Orange Snack - Eros
55 days green. 75 days yellow orange. Sturdy plants. Nice snack size.
More
Pepper - Red Snack - Cupid
55 days green. 75 days red. Fast snack pepper.
More
Rosemary
80-100 days: stem tips. 120 days: bunches.
More
Squash - Summer - Yellow
Early prolific straightneck summer squash. 45 days yellow squash. Pick often! Frost sensitive.
More
Squash - Summer - Zucchini
Dark green zucchini. 50 days. Open-pollinated. Upright bush forms straight zucchini.
More
Tomatillo
Green tomatillo. 75 days to maturity. 2-3" green fruits produce well in late season.
More
Tomato - Cherry - Red
Large. 75 days. Big round red cherry tomatoes. Indeterminate.
More
Tomato - Cherry - Sun Gold
57 days. Sweet, delicious orange cherry tomato with high yields. Indeterminate. Must be trellised.
More
Tomato - Cherry - Supersweet 100
60 Days. Productive small/medium red cherry. Indeterminate.
More
Tomato - Black Krim
80 days. Russian heirloom tomato with green shoulders, dark red flesh. Delicious! Indeterminate.
More
Tomato - Cherokee Purple
80 days. Heirloom tomato. A deep pink-purple with green shoulders. Great flavor. Indeterminate.
More
Tomato - Idagold
59 days. Orange salad tomato. Productive in tomatoes. Few leaves.
More
Tomato - Latah
55-60 days to maturity. Compact, determinate early saladette.
More
Tomato - Mountain Fresh
75 days. Determinate. Round red tomato.
More