Welcome!

Information for Plant Sale on Saturday, June 6th, 2020
The online order form for the June 6th plant sale is now open! Online ordering will be available from Saturday, May 30th at 9 am through Friday, June 5th at 5 pm.
See below for more information, including plant descriptions.
Quantities of some items may be limited due to availability.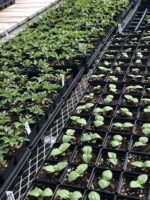 Ordering: May 30th – June 5th
The online order form is open now through 5 pm on Friday, June 5th.
We will offer additional quantities of vegetables from the May 16th plant sale – basil, broccoli, cabbage, chard, kale, lettuce, and tomatoes (cherry and slicing). In addition, we will have cucumbers, peppers, and two additional varieties of tomatoes. See below for descriptions.
Order Pick-Up: June 6th
Pick-up of pre-ordered plants will be from 1-4 pm on June 6th at:
Community & School Farm
1455 Holman Ave, Salida, CO
The farm shares a parking lot with the dog park and is across from the Trailside Estates neighborhood.
Questions
If you have any questions, please email us at info@guidestonecolorado.org or give us a call at 719-239-0955.
Thank you!
Thanks to High Country Bank and Erin's Greens for their support of these plant sales.
Plant Descriptions
Plants Available
Description
Basil - Italian
78 days to maturity. Keep above 37F. Pinch off the tops for your first harvest to encourage basil to branch out more.
More
Broccoli - Gypsy
58 days to maturity. Hybrid good for producing heads or sideshoots. Performs well in poor soils and tolerates heat. Frost hardy.
More
Cabbage - Red Express
62 days. Compact plants are good for small spaces; form 2-4 pound heads. Frost hardy.
More
Chard - Bright Lights
58 days full size. Mix of colored stems, good bolt resistance. A beautiful crop to grow and harvest. Frost hardy.
More
Cucumber - Pickling - Homemade Pickles
55 days. Relatively compact plant with 4-5' long vines. Can be eaten fresh or pickled. They can grow in a container and work well trellised. Stay on top of picking them for more production. frost sensitive.
More

Cucumber - Slicing - Marketmore
60 days. Heirloom, 4-6' long vines with ripe cucumbers about 6-8" long. frost sensitive.
More
Kale - Premier Blend Mixed
55 days full size. Mix of Toscano, Siberian, Dwarf blue curled, Red Russian. Frost hardy.
More
Lettuce - Butterhead - Buttercrunch
65 days. Heat tolerant heirloom. Compact and good for containers.
More
Lettuce - Green Leaf - Nevada
48 days. Heat tolerant summer crisp / batavia type lettuce.
More
Lettuce - Red Leaf
55 days. Red oak leaf lettuce good for heads or cut as leaves. Bolt resistant.
More
Lettuce - Romaine - Parris Island
68 days. Tall, upright green heirloom romaine.
More
Pepper - Bell - King of the North
57 days. Green peppers; longer for red. Good for short seasons, produce 3-4" peppers. frost sensitive.
More
Pepper - Sweet - Red Cherry
54 days. Green; turn red. Bite-size 1-1.5" peppers are sweet, not hot!
More
Tomato - Cherry - Red
75 days. Big round red cherry tomatoes. Indeterminate.
More
Tomato - Cherry - Sun Gold
57 days. Sweet, delicious orange cherry tomato with high yields. Indeterminate - must be trellised.
More
Tomato - Black Plum
68 days. Short season heirloom from Russia; seeds from Pueblo. Compact vines produce dark 2" oval tomatoes.
More
Tomato - Cherokee Purple
80 days. Heirloom tomato a deep pink-purple with green shoulders, great flavor. Indeterminate.
More
Tomato - Mountain Fresh
75 days. Able to tolerate cool and wet conditions, this big red tomato produces attractive, 8-16 oz. slicers with good flavor.
More
Tomato - New Girl
62 days. Early round, red hybrid tomato. Indeterminate; needs staking.
More
Tomato - Sasha's Altai
60 days. Productive, small/medium round tomatoes. Compact heirloom from Siberia; seeds from Crestone.
More