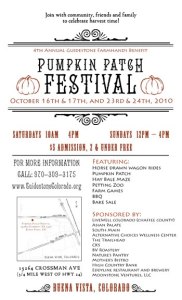 Autumn in the Upper Arkansas Valley is a wonderful time to celebrate with seasonal festivities around the abundant harvest. One great event for children and families will be the Fourth annual Pumpkin Patch Festival at Cottonwood Meadows in Buena Vista. The Pumpkin Patch Festival is a two-weekend celebration open to the public, which offers a variety of activities and amusements for the whole family.
You can join in on a horse-drawn wagon ride pulled by a local team of horses. The team will pull you out to the pumpkin patch where you can pick the perfect pumpkin for Halloween. Other engaging activities include winding through the hay-bale maze, playing chicken bingo, and enjoying a barbecue bratwurst or burger lunch with hot-apple cider and homemade pies and cookies. There will also be arts and crafts for the children, farm games, face-painting and a petting zoo. Enjoy the sights and sounds of life on a farm with your friends and neighbors while enjoying the fall colors of the cottonwoods and the views of Mt. Princeton. You can build a scarecrow. Watch local artisans share their skills and wares. Visit the fire trucks and learn about fire safety with the Chaffee County Fire Protection District. Take a walk back to the beautiful meadows along Cottonwood Creek. See the gardens where Weathervane Farm grows the vegetables provided to you through the CSA and markets all season long. Be sure to check out Cottonwood Creek Dairy and learn about old-fashioned raw milk production. And don't miss Colorado Grown, a distribution center specializing in locally grown and Colorado-based farm and specialty products.
Admission is $5 for adults and children three and over – the tiny tots are free! The cost of admission and the proceeds from the barbeque and baked goods will support Farmhands, Guidestone's educational programs. Guidestone is a non-profit organization that serves the Upper Arkansas River Valley by encouraging our local food economy and preserving our agricultural heritage with the Land-Link Initiative. The Farmhands Education Program, a Guidestone project, aims to join children with the hands-on learning experiences of small-scale local food production.
Come Join In The Fun!
The Pumpkin Patch hours:
Saturday 10am to 4pm, October 16th and 23rd
Sunday 12pm to 4pm, October 17th and 24th
Location: 15264 County Road 350 (look for the pumpkin signs!), Buena Vista. For more information go to www.guidestonecolorado.org.
Special thanks to John Cogswell of Cottonwood Meadows, Weathervane Farm, Cottonwood Creek Dairy, and Colorado Grown for their ongoing support.