Guidestone Colorado hosts Fruit Tree Planting and Fundraiser at the Salida School Gardens: Holman Farm Site on Saturday May 30th from 10am-2pm.
Celebrate spring, community, and good food and help us plant and expand the fruit tree orchard at the Salida School Gardens: Holman Farm Site on Saturday May 30th from 10am-2pm!   We are seeking individuals, families, businesses, and other organizations to adopt a tree by helping to cover the cost of purchase and maintenance of these trees over time. This is a great opportunity to invest in a community project that will literally bear fruit for years and years to come!
Adopt-a-Tree – levels are: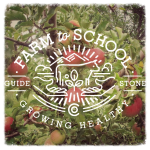 Green adopter: $25 (prepares the soil for the orchard!)
Bronze adopter: $75 (helps to purchase and plant the trees!)
Silver adopter: $125 (adopts a tree for the 2015 season)
Gold adopter: $250 (adopts the orchard for the 2015 season)
Platinum adopter: $500 (adopts the orchard and garden for 2015)
Garden Sustainer: $1,000 (supports the Garden and capacity building for the Farm to School Initiative)
You can participate in the adoption by clicking HERE or by joining on site at the event.
We will be planting apple, plum, apricot, and pear trees! Whether you sponsor or not, we would still love your help in preparing and planting them! Refreshments and kids activities will be provided during the event.
The Fruit Tree Planting & Fundraiser event will also be your chance to meet an inspiring group of young people devoting two weeks of their time in service to Salida with Guidestone Colorado. Through a partnership with the Conservation Legacy AmeriCorps VISTA Program, Guidestone Colorado will host an AmeriCorps NCCC Team May 17 – June 2. Comprised of nine young adults between the ages of 18-24, the Team will be volunteering their labor to two community sites in Salida that Guidestone Colorado manages: the Salida School Gardens, Holman Farm Site and the Hutchinson Homestead & Learning Center on Hwy. 50.
We hope you'll join us on May 30 for the Fruit Tree Planting & Fundraiser from 10am-2pm! The Salida School Gardens, Holman Farm Site is located on Holman Ave. in Salida by the soccer fields and dog park.
Contact Margaret Fitch, Director, Farm to School Initiative at margaret@guidestonecolorado.org or Jennifer Visitacion, Executive Director of Guidestone Colorado at jennifer@guidestonecolorado.org or call 719.239.0955 for more information.