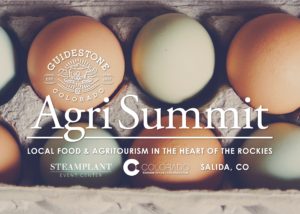 AgriSummit 2019 Call for Presenters
In celebration of local foods and agritourism, Guidestone is thrilled to be hosting the 4th Annual AgriSummit, to be held at the Salida SteamPlant on Friday, April 19th. Presentation proposals are now being accepted, and the deadline for submission is Monday, February 11th.
AgriSummit is a community event highlighting opportunities for learning, discussion and networking focused on local agriculture, agritourism and creating resilient food systems in the Heart of the Rockies region.  The event will include keynote addresses from local and regional agricultural leaders, pre-event social networking opportunities, breakout sessions, resources for current producers and beginning farmers and ranchers, and opportunities for community members to engage in supporting regional food systems efforts.
Presentation content and discussions will be divided into concurrent tracks, and should be relevant to producers (both established and/or beginning), agritourism initiatives and opportunities, or community members – specifically, educational workshops, hands-on activities, and community engagement discussions.
Other aspects of the event include:
Thursday afternoon Farm/Ranch & Agritourism Tours
Thursday evening presentation
Farmers Market
Exhibit Booths
Lunch featuring local foods
A Community Open House
A Silent Auction
To submit a session proposal, please CLICK HERE.
Deadline for Submission: Monday, February 11th
For questions or more information about presentation or sponsorship opportunities, please contact Andrea Coen at andrea@guidestonecolorado.org or call (719)239-0955